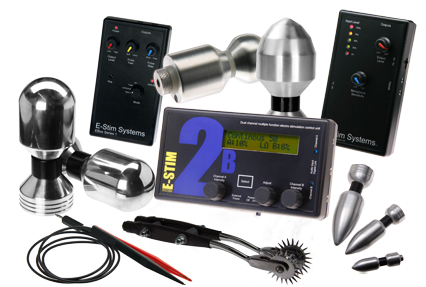 We are often asked what to buy. We design and create a wide range of power boxes, an even wider range of electrodes and when it comes to adaptors, cables and all the ancillary items it can become seriously confusing.
To try and help we have now started to create a range of guides, in an attempt to give you an understanding as to what to consider when choosing e-stim equipment.
Powerboxes
Our choosing a PowerBox guide gives you an insight into the all the options to consider when buying an E-Stim power Box.
Our Specification Comparison provides a breakdown on what E-Stim Systems power box does what.
Electrodes
Choosing an Electrode offers some ideas as to what to consider when choosing an insertable electrode
Electrodes made for E-Stim fall into two types, monopole and bipolar. Put simply in order to feel anything from E-Stim you need two points of contact, the current generated by the control unit flows between these two points and that is felt as a sensation. A unipolar electrode has a single contact, a bipolar electrode has two. It is possible to combine unipolar and bipolar electrodes together (for instance use one unipolar sound and a single contact of a bipolar plug, but it does get more complex. If you want to keep it simple then a couple of bipolar insertable electrodes will cover nearly all your needs. Don't forget that the majority of our E-Stim packs are shipped with 4 reusable sticky pads, and the necessary cables to connect them, giving you the ability to start to play as soon as you get home (or even before).
Electrodes are to a certain extent a very personal choice, and that choice is dictated by cost and anatomy. For insertables, we offer a high specification premium range. Our premium range of electrodes are manufactured by us here in the UK from solid metal alloy bar stock, and assembled with medical grade polymers and stainless steel fittings. We don't believe in cheap chrome plating or thin tin foil contacts so we don't use then. The connectors are heavyweight 4mm with the sockets drilled directly into the conductors.
The majority of our premium range of electrodes have contact points top and bottom. We have found this offers a more natural feeling when the electrode moves within the body as well as offering the optimum size of contact area. Some electrodes have contacts on the side, some on the top and bottom. some have a flanged base to ensure they don't go in too far, others are designed to be simply big. All of our premium electrodes come with a lifetime guarantee.
If you want more details on how to choose an insertable electrode, then have a look at our more detailed Guide on how to choose an insertable.
A few other ideas you might want to consider....
Conductive Rubber Cock Straps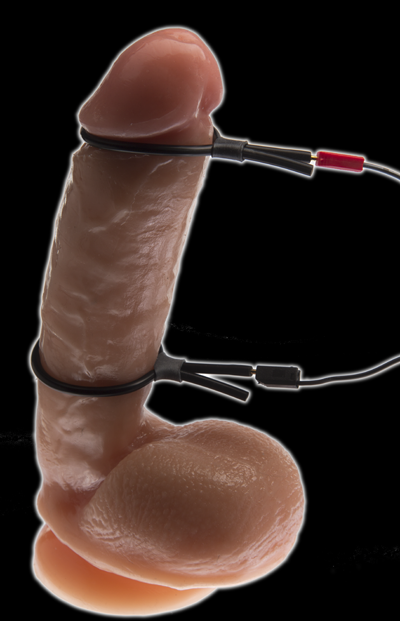 Conductive rubber is a fantastic product that has taken the e-stim world by storm. Two soft supple conductive loops, available in two different connection sizes (2mm/TENS and 4mm), fit snugly around the penis, to take you to electroplay heaven. The conductive rubber ensures a sung flexible, fit, avoids 'hotspots' and will adjust to fit nearly all sizes (and that includes from flaccid to stiff!). They are so good we even supply them with our Helix Blue and ElectroPebble bonus packs, the XPE and XPF. We also sell the older but still popular fabric cock straps.
Why No Rings?
We don't stock metal cock rings. Although they exist on the E-Stim market we have always found they never really work, hardly ever fit correctly, or when they do they become too tight and fall off 5 minutes later. Anecdotally they also seem to appear on the news when someone has to visit their local fire station for them to be cut off - Ouch!!
Pinwheels and Sounds and more
We don't just produce a range of insertables. We also provide a range of exclusive urethral sounds (for insertion into the penis) and bipolar clips, tweezers and pinwheels for use on the surface of the skin.
Add
conductive gel
to any surface based electrodes (apart from the sticky pads) and the fun really begins. Conductive Gel decreases the resistance and makes any power box more effective.
---
Everything else
We stock a wide range of cables, gels, adaptors and other bits and pieces, all designed to enhance your E-Stim experience. Our wide range of adaptors designed to allow you to use our equipment with that produced by other manufacturers.
Hopefully this have given you a taste for E-Stim, and some idea as to what to buy. If you are still confused, or you want to ask more then please don't hesitate to give us a call, or send us an email. We would love to hear from you.
Wayne
E-Stim Systems Ltd