Shipping & Returns
SHIPPING RATES
We have changed and simplified our shipping rates. Shipping charges are now based on the value of your order, and the destination. If you require a specific delivery service (Saturday Delivery etc, then please contact us before placing your order.
All our parcels are packaged discreetly for your privacy.
UK Destinations
We now offer FREE shipping on all orders to UK Destinations. This is a 2 to 3 day service. Should you want your order faster then we do offer an Express Shipping which is next working day (subject to location) at a cost of £11.99
Orders placed before 3.30pm with standard shipping are usually shipped same day, stock permitting, and the cut off time for Next day delivery is 2.30pm. Next Day shipping is by DPD by default except for orders placed for dispatch on a Friday when Royal Mail Tracked 24 will be used unless otherwise requested
Express Shipping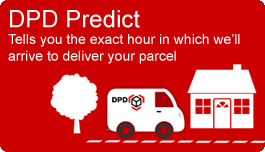 We use DPD Local as our main courier for our UK Express service. This gives you access to a Predict service, providing you with a one hour delivery window, notified by SMS and email, so you don't have to wait in all day for your delivery.
You can also use Follow My Parcel enabling you to watch the progress of your pace on a real-time map, all the way down to a final 15 minute time slot.
You will even get the name of your DPD Local driver, as well as the position you occupy in their delivery queue.
If you cannot make it at the time the delivery is scheduled, you also have access to a variety of rescheduling options both on the day of delivery and the night before, once it has been collected, allowing you to take delivery of your goods in a way that suits you.
If you wish to reschedule, you can:
Select an alternative delivery date
Opt for delivery to a nominated neighbour
Have the parcel left in a specified safe place
Collect the parcel from your local DPD Local depot or Local Collection Point
If you need more details then please do not hesitate to ask.
This service is NOT available to destinations outside of the UK or to Highlands and Islands, and can NOT be used for PO Boxes. Should DPD Local services not be available then we will look to use an alternative service such as Royal Mail Tracked 24.
This is a next working day from dispatch and not necessarily next day from order service, stock permitting and depending on the time an order placed. Orders placed after 3pm Friday will not be shipped until the following Monday or next working day. This is not a guaranteed service, as there maybe circumstances beyond our or the couriers control.
Workshop Collection
You can if you wish place your order and collect directly from our workshops in Watford (UK). This is a collection only service and is by appointment only (normally Monday to Friday 10am to 4pm), but please contact us for more details. We do not have a shop so you will be unable to browse. You are only able to collect orders that have been placed on our webstore. You will not be able to collect until your order has been picked and packed, and you have an email indicating that your order is ready for collection. You may also be asked for ID before your order will be released.
Our workshop address is

E-Stim Systems Ltd
Unit 24, Empire Center
Imperial Way,
WATFORD, WD24 4YH
Destinations in Europe
Shipping prices will be shown for your order at checkout and are based on where the order is being shipped to.
For orders to Norway, Norwegian VAT is charged at the current rate of 25%.
Please ensure that if you are using a PO Box that mail originating from the Royal Mail that requires a signature will be accepted, and that they will accept parcels where import duty/VAT is due, as if the parcel is returned a re-shipping fee will be charged along with any other additional charges incurred for its return. Please note we are unable to ship to Packetstations or any other Postal Services unless they will accept signed for parcels.
EU Brexit Changes
As you may be aware, the UK left the European Union on the 31st December 2020. Based on this change there are VAT (sales Tax) implications that will likely affect our customers located within the existing European Union and Northern Ireland after December 31st, 2020.
European Union Customers: from January 1st 2021, items will be sold at a price exclusive of VAT. Once you checkout with an EU country as a shipping destination, you will not be charged UK VAT.Applicable VAT (sales tax) will not be charged; however, you will be liable for paying any sales taxes applicable to the country of destination to your local authority along with any processing fees applied by the carrier. These are the responsibility of the purchaser to pay.
Shipping to the rest of the world
Visit our Worldwide Store for the correct VAT free pricing.
Processing your order
When ordering online your order is initially processed by our online store system and then, if you have selected to pay via Credit/Debit Card, you are passed to a highly secure payment server run by Opayo/SagePay. Your payment details are processed by OPayo/Sagepay and your card issuer and then if your payment is successful you are then passed back to our server.
For security reasons we never have access to your credit card details, only the fact that you have paid us is recorded. If you wish to add to your order once it is placed then please contact us.
Whenever your order changes status, you will be automatically sent an email to your registered email address. Please check your spam filters!!!!!!
Orders placed before 2.30pm for Next Day and 3.30pm for standard shipping (UK Time) will generally be dispatched on the same day, (Monday to Friday, excluding Bank Holidays), assuming everything is in stock at the time. If you need an item for a specific date/event please contact us before ordering. If an item is out of stock we will send you an email to tell you what is going on. As we manufacture most items in house we generally have a maximum stock turnaround of less than a week, but at busy times this can be longer, but we will try to keep you updated.
| | |
| --- | --- |
| Your Order is... | Meaning |
| waiting to be checked | Your order has been correctly processed by the payment system, but is waiting to be accepted and checked by a human. Once we have checked your order it will move into being processed. |
| being processed | Your order has been checked and is now being processed. In the event that items are out of stock, your order will remain in processing until it is ready to be dispatched. |
| Waiting for Stock | We are currently in the process of making some of the items you have ordered. As soon as they are back in stock your order will be updated. |
| in dispatch | Your order has been assembled all the items have been checked and everything has now been passed to our dispatch department for packing. You will normally be given a tracking number at this time, but it won't work until your order has actually left our workshop. |
| fully dispatched | Your order has been passed to the courier company and is now in their hands. You should get your order soon, but you can use the tracking number to track your order through their system. |
Parcel Tracking
We use a number of delivery systems, depending on your requirements and the destination of your order. Overseas delivery times are dependent on the time of year as well as the vagaries of customs and the destination delivery services. If you wish a guaranteed timed delivery service please contact us for more details.
Destination
Notes

Estimated Delivery Time*

Tracking Details
UK Orders
UK orders are generally shipped via a Royal Mail Tracked Service or DPD Local, depending on the size of the order and if Express Shipping has been selected. When your order is delivered you will normally be asked to provide a signature, or the Carrier will leave a 'while you were out' card.

1-3 Days

www.royalmail.com
www.dpdlocal.co.uk
EU Orders
EU Orders are generally shipped via Royal Mail Tracked and Signed

5-10 working days

www.royalmail.com
Local Postal Service

Other Destinations

Please use our alternative overseas website at https://www.e-stimsystems.com
*Estimated Delivery times are times given for deliveries stated by the relevant postal system and are from the date of dispatch.
Times stated are quoted as working days and do not include delays caused by customs clearance or other activities beyond our control.
Refused Deliveries
In the event of a package being returned after failed delivery attempt(s), a delivery refusal, unclaimed parcels, or a package is returned to us for any other reason, then we reserve the right to charge a restocking fee of 20% plus any additional costs incurred by us in the return of the items. Refunds will only be issued against the goods and not any shipping charge and refunds will not be issued until items have been safely returned to our offices. Redelivery will be chargeable should the parcel still be required.
Returns
All of our Control Units and Premium Electrodes are backed with a Lifetime Guarantee(subject to terms and conditions). We would never knowingly sell a defective or substandard product and have we have an experienced test team that strive to ensure every item leaves us in perfect working condition. However in the unlikely event that you find a fault, then please contact us before returning any item.
We hope you will understand that we cannot take back any item that has been opened or used intimately including power units, as we have to guarantee the item is new and unused. So once the hygiene seals are broken it is yours. Of course if it has failed then we will repair or replace it (at our discretion).
If you are not sure that what you are buying is what you want then please talk to us before making your purchase. We do not offer a sale-or-return service.
We consider any item that can be used internally or directly against the skin to be an intimate product.
Consumer Rights Act 2015
All consumer internet, mail order or telephone sales within the EU and placed after 1st October 2015, are covered by the Consumer Rights Act (CRA) 2015 as well as the Consumer Contracts Regulations 2013. Sales placed before this date are covered by the Consumer Contracts Regulations 2013
The CRA 2015 gives you the right to reject goods if they are found to be
not of a satisfactory quality ,or
not fit for a particular purpose, or
do not match the description, sample or model.
You no longer have an automatic right of return just because you don't like it, or its too big. Please check the product descriptions carefully, and if you are unsure regarding sizing or suitability for purpose, then please contact us before making a purchase.
If you find, on receipt of your items any of them are faulty, then you are responsible for the cost of returning them to us in order for us to affect a repair/replacement or a refund (if it is under 30 days from date of purchase). We require that you obtain a Returns Reference prior to returning any goods. We will refund standard postage costs, once the items have arrived in our Watford workshops (UK), but the delivery costs (if any) form a contract of service that has already been fulfilled.
If you have broken any security seals, which we can reasonably expect to be intact then this would be considered to be abnormal use, and thus remove your rights under the CRA 2015.
All Power Boxes, and Premium Electrodes are covered by our Lifetime Guarantee. Other electrodes are covered by a 12 months guarantee. Cables, pads, and Gels are all considered to be consumable items and are therefore only offered with a 3 month warranty.
Consumer Contracts Regulations 2013
For orders placed before 1st October 2015, The Consumer Contracts Regulations gave you, for 14 days from the date of receipt, time to check out the products you have purchased in the same manner you would have had in a shop, and to cancel the order and return the goods back to us for a refund, minus any cost of shipping (as this is a service that has been completed). Since 2015 this has been extended to 30 days (see above) , however your right to cancel does not apply to:
Personalised goods or goods made to a consumer's specification
Goods that cannot, by their nature, be returned - this includes items that might have been used in an intimate nature, and computer software.
Goods purchased through the Professionals' Discount program, as this is considered to be a B2B transaction and not covered by the Consumer Contracts Regulations.
The first EU consultation on the original Distance Selling Directive stated that it had concerns about the fact that health and safety considerations are not reflected in the right to return products that are of an intimate nature or have been tried, there would be possible health risks in returning these products, Therefore if the seals have been broken the goods may not be returned.
All goods returned under the CCR or CRA are the responsibility of the consumer until they have been returned.
This policy does not affect your statutory rights.
Please note that Goods purchased through the Professionals' Discount program, as this is considered to be a Business to Business (B2B) transaction and not covered by the Consumer Rights Act /CCR.