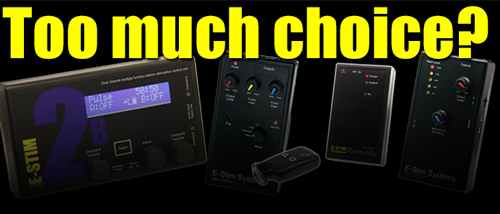 We have now created a E-Stim Systems powerbox comparison chart. This allows you to scan through all of our power units and select the one most suited for your needs, based on a number of criteria. If this proves popular, we may even extend this to other non E-Stim Systems power boxes.
Size
Size of a powerbox is always a concern, there is no point looking for an E-Stim unit for discreet use, if it is the size of a brick, but if a powerbox is too small, then the controls might turn out to be too fiddly.
weight

How much does the unit weigh.

131g

114g

227g

100g

107g

Dimensions

How big is the unit

116mm x 78mm x 40mm

112mm x 65mm x 41mm

145mm x 80mm x 50mm

112mm x 65mm x 41mm

112mm x 65mm x 41mm

Outputs
The number of outputs determine how many electrodes you can control at any one time. Isolated outputs allow you to control an electrode without any interaction with another electrode, especially important if you are playing near the chest. Why do we not give a specification for the actual output level? Because firstly no other competitor releases such details, and how powerful a box feels is highly dependent on the waveform and position of pads etc.



Number of channels

Number of electrodes that can be independently controlled (Although it is possible to use more than one electrode on a channel).

2

1

2

1

1

Isolated outputs

Gives you the option to independently control electrodes with no interaction between contact points.

No

No

Yes

No

No

Power

Perception of power is dependent on mode settings, load and battery/power supply conditions.

100mA

100mA

160mA


120mA

80mA

Output Connections

Most professional E-Stim units such as ErosTek and PES use an industry standard 3.5mm jack socket.

3.5mm Jack

3.5mm Jack

3.5mm jack

3.5mm Jack

3.5mm Jack

Display
A clear display helps you understand what your powerbox is doing at any one point, the more complex the unit, the more you will need a comprehensive display. Being able to see the display and controls in the dark is obviously useful.



Display Type

LCD is clear and informative, LEDs glow and can be seen in all environments.

LED

LED

16x2 LCD
& LED

LED

LED

Visible in dark?

Not all displays will work in the dark.

Yes

Yes

Yes

Yes

Yes

Adjustable backlight

Sometimes a bright backlight can be can be hard to see

No

No

Yes

No

No

Channel Indicators

Are there indicators to tell you exactly what each channel is doing?

Yes

Yes

Yes

Yes

Yes

Mode Display

How does the powerbox show the mode

LED

LED

LCD

LED

Switch position

Modes
Different and refined program modes is what makes an E-Stim unit exciting, and breaks away from the more static TENS style modes. Audio Modes allow you to use sound to generation sensation, Motion modes allow you to create sensation from movement. Triphase mode makes things go all 3D.



Triphase

Takes the output to another level. sometimes described as 3D


Yes

No

Yes

No

No

Number of Program modes

More modes can mean more fun, but for some more can be too many.

9

5

17

10

2

Motion Sensor

A motion sensor can add to the enjoyment by generating sensation from motion.

No

No

No

Yes

No

Number of Audio modes

How many audio modes does the box have

1

None

2

2

2

Power Levels

How many power levels does the box have. The more the better as it gives you finer control.

0-100%

0-100%

0-100% LOW
0-100% HIGH

27 Steps

0-100%

Controls always start at zero

When you turn the box on do the outputs start at zero?

No

No

Yes

Yes

No

Audio
Looking to use sound in your play? then consider an E-Stim unit with sound inputs. A built in microphone means you won't loose an important bit, and line in allows control from a MP3 player.



Audio Frequency Range

What frequency range does the powerbox respond to? A wider range will give more response.

30Hz to 5000Hz

N/A

30Hz to 5000Hz

30Hz to 5000Hz

70Hz to 6000Hz

Built in microphone

Does the unit have a built in microphone? If its built in there is less to loose.

Yes

No

Yes

Yes

Yes

Audio Line-in

Can you connect a MP3 player to play sounds through the powerbox? Sometimes called stereo stimming.

No

No

Yes

No

Yes

Audio Level Display

Is there some form of display of audio level? Useful when playing different sounds.

LED Bargraph

n/a

Bargraph

Bargraph

LED Bargraph

Audio Processing

Does the powerbox have any form of audio processing? Mono gives one channel, Stereo gives two channels

Yes, Microphone Only

No

Yes, True Stereo, DSP

Yes, Microphone Only

Yes Stereo to Mono

Audio Mixer

How does the powerbox 'mix' incoming signals?

N/A

N/A

Yes (Digital)

N/A

Yes
Analogue

Adjustable audio response

Can you adjust the audio response?

Yes

No

Yes

Yes

Yes (Mic)
Power Supply
How do you power your E-Stim unit. Rechargeable batteries always seem to run down when the going gets fun, so we try to avoid them. Mains power options give more power and longevity but do mean you have to be near a power socket.



Battery Power

Will it run off batteries?

Yes

Yes

Yes

Yes

Yes

User replaceable battery

Can you replace the battery? Is it easily available?

Yes PP3

Yes PP3

Yes PP3

Yes PP3

Yes PP3

Mains power supply available

Can you run the powerbox off the mains if you wish?

No

No

Yes

No

No

External Control
If you are looking to control a powerbox from a PC, Laptop or even a mobile phone? Then here are your options.



Radio Control

Radio Based remote control.

No

No

No

Yes

No


Digital Link

Allows the ability to control a powerbox from a computer

No

No

Yes via USB

No

No


Record and Playback Sessions

Can you record and playback 'sessions'?

No

No

Yes* with
Commander

No

No


Mac Control

Can the powerbox be controlled from a modern Mac?

No

No

Yes*

No

Limited
via Audio


PC Control

Can the powerbox be controlled from a modern PC?

No

No

Yes*

No

Limited
via Audio


E-Stim Connect

Can you control the powerbox across the Internet via E-Stim Connect?

No

No

Yes*

No

No


Firmware upgradeable

Can you upgrade the powerbox yourself? This might be useful if the manufacturer releases new firmware for bug fixes and new modes.

No

No

Yes*

No

No

DIY Development

One for the techies :: Can you write your own code for the powerbox? Are the protocols available?

No

No

Yes

No

No
*requires optional Digital Link Interface and compatible PC or Mac.


Controls
The ability to adjust the output means you can create a sensation that is right for you. The more control you have the better.



Level Controls

How do you control the output level. rotary control are fast and responsive.

Rotary

Rotary

Rotary

Press Button

Rotary

Direct Adjustments available

How many different ways can you adjust a waveform?

3

3

3

2


1


Level step adjustment

How many steps in a level. For digital controls the more the better, Analogue control offer step free adjustment

Analogue

Analogue

100

27 Steps

Analogue

Hardwired on/off switch

Is the switch hardwired or is it a press and hold? Hardwired switches tend to stay switched off when you place them in a bag.

Yes

Yes

Yes

Yes

Yes
Guarantee



Guarantee

How long is the guarantee

Lifetime

Lifetime

Lifetime

Lifetime

Lifetime
More
If there is any more comparison information that you feel would aid you in your quest for the best in E-Stim technology, then please do not hesitate to ask.
Wayne Allen
E-Stim Systems Ltd