Welcome to E-Stim Systems

New ElectroRings
The New E-Stim Systems ElectroRing System has now been launched!!. Not just a simple electro based cock ring, the ElectroRing System allows you to lock two rings together to produce a BiPolar ElectroRing, giving you electro cock play with a hint of chastity - and it even comes with a 'locking' option - you will need the supplied tool to remove.
Rings come in sizes from 30mm up to 65mm, and feature heavy duty double sided 4mm sockets giving you even more flexibility - and you don't need to use the system all the time, you can use a single ring as a more traditional cock ring, or combine it with another electrode.
New Standard Shipping to Europe
We are now offering lower cost standard shipping into all of Europe, as well as free shipping for the UK. We also offer faster expedited shipping options, just select the option on checkout.
EU Brexit Changes
As you may be aware, the UK has now left the European Union as of 11pm on 31st December 2020.
European Union Customers
For destinations in the EU, items are sold at a price exclusive of UK VAT. In other words UK VAT (sales tax) will not be charged when you purchase items from us, however, you will be liable for paying any duties and sales taxes applicable to your country of destination. To help you, all of our prices now show the UK VAT inclusive price, and the ex UK VAT price in brackets. Once you checkout with an EU country as a shipping destination, you will not be charged VAT by us, and therefore will be paying the lower ex UK VAT Price.
Whilst we are using harmonisation codes within Europe and the expectation is that 0% duty and your normal rate of VAT may be applied by your local authority, this is not guaranteed. We recommend checking with your local authorities for clarification.
These changes will not effect our service or our products provided to our EU customers, we will still endeavour to support you with our lifetime guarantee and great customer service at every point.
Quick Guides
Welcome
Welcome to E-Stim Systems. We have been around since 2004 manufacturing our own range of dedicated electroplay products here in the UK. We started in the Fetish community building for ourselves, when we discovered that more and more people loved what we do...the rest is history.
Please feel free to look around our new webstore, and if there is anything you don't understand please feel free to ask.
Whats New
The NEW ABox Mk2
We have taken our original ABox, originally designed back in 2006 and added a touch of magic, making it smaller, more powerful and easier to use - meet the new ABox Mk2. Now you can not only listen to music, you can feel it!!
New E-Stim Remote System now available
The New E-Stim Remote System is now out. You asked for more power and more control and now we have given it to you. With 27 power levels, 10 modes, dual motion modes and now new audio modes, combined with even more POWER, the new E-Stim Remote System has proved to be a hit with our test team during development. Why not see what all the fuss was about.
The E-Stim Connect Pack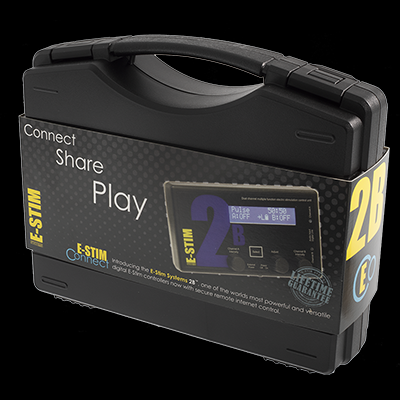 With the release of the E-Stim Connect system, we have now created the E-Stim Connect Pack, all the e-stim goodies you need to run E-Stim over the internet. A 2B, the digital link Interface and all the software and e-stim accessories. Connect within minutes to the secure E-Stim Connect system and you can be playing with a partner from anywhere in the world - all they need is access to a modern web browser.
The Black Collection
The latest additions to our Premium Electrode range are here. The stunning and highly anticipated Black Collection. Four electrodes, Small to XL, based on the highly popular Bobble, but with extended sizing and our Luxurious Satin finish.
The 'Double Bobble' head design allows the electrode to be inserted in two different depths - insert up to the first neck to feel the sensations around the entrance, take it deeper for more intense internal sensations.
Videos
We have now started to release a series of videos guides on our products. The first gives a quick overview on our 3 most popular powerboxes, but if you want to see more, then why not subscribe to our YouTube channel https://www.youtube.com/estimsystems
Too much choice?
With a number power boxes to choose from, you might feel overwhelmed with the choice available. So we have created a number of new quick guides to help (see the boxes at the top of this page). Still not sure? then why not use our online chat facility to talk to an E-Stim expert?
2B™ - The Ultimate in Electrosex Technology
We all want value for money, so the 2B™ is designed to offer you more programs, more control and more power than ever before.
We offer you quality and then we offer you service, by giving the 2B™ an exclusive Lifetime Guarantee. Why buy low specification, poor quality electro 'sex' boxes when you can buy a 2B™ - a pleasure centered power box that will grow with you and your electroplay experiences. Click for more details on the 2B.
Internet, PC or Mac Control?
Combine the 2B with our free Commander 3 software and our digital link interface, and you have the only commercially produced E-Stim powerbox in the world that can be directly controlled from a PC/Mac,to record and playback sessions, add in access to the new secure E-Stim Connect system and you also have secure and easy E-Stim control across the internet from any device with access to a modern browser, from anywhere in the world.
E-Stim, Electrostim, Electroplay or Electrosex is generally designed to be fun and pleasurable! You can experience a never ending range of fantastic sensations that tease and tantalize both him and her with our great Starter Value packs. All of our units have been created by listening to our users and offers excellent value for money, and with prices that start from only £109, together with free UK shipping.
Lifetime Guarantee
And if that is not enough to tempt you, then don't forget ALL of our Power Boxes and ALL of our Premium Electrodes are manufactured by us here in the UK, and are all covered by our exclusive Lifetime Guarantee.