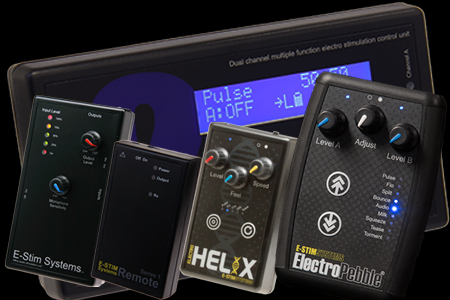 We are often asked 'what should I buy?'. Choosing an E-stim unit, and then all the possible electrodes and accessories is a very personal thing as may choices come down to what you enjoy, and without trying things how would you know?
So we shall try to give you some advice. But before we go on a few explanations.
What is E-Stim?
E-Stim or electro stimulation, (sometimes also referred to as 'estim', 'electroplay' or 'electrosex'), is simply the use of electricity applied to the human body in such a way to produce a pleasurable (normally!) sensation. The levels of stimulation and the methods of generation all combine to produce a unique experience far surpassing anything produced by a funny colored vibrator, especially ones named after cute furry animals.
E-Stim is NOT TENS (or EMS)
Equipment available on the market today is either TENS based units (the medical use of E-Stim for pain relief), EMS (Electronic Muscle Stimulators) or made for play dedicated units. TENS units are designed to reduce pain and sensation and will always be inferior to 'made for play' E-Stim units. TENS/EMS is easy to spot, look for power boxes with 'funny' shaped sockets and features such as 'treatment timers'. E-Stim sometimes also gets confused with EMS - Electronic Muscle Stimulation - again easy to spot as they units normally have many channels and numerous sets of pads. EMS is much more brutal in feel and is designed to stimulate muscle groups in order to give you a 'six pack', with often dubious results. Neither TENS or EMS are designed for play, although some companies will use pretty packaging to make it appear they are for 'sexy play'.
Built for Play
We have been around since 2004, and design and produce a range of safe versatile made for play E-Stim equipment, that far surpasses its competitors both in functionality and price, and all of our front line sales staff actively play with our equipment, giving us the edge both in research and development and general experience with electroplay and electrosex in general. So when we offer advice its from personal knowledge and experience. We do not know everything, but we try to offer ideas and guidance as everyone's E-Stim experience is going to be different.
E-Stim equipment consists of two main items. The power box, and an electrode (or electrodes). Everything else is considered to be ancillary, but important nevertheless. (Batteries, cables, conductive gel etc.)
We could suggest you buy everything at once, but a more realistic approach is to purchase a power box and an electrode possibly in a pack and enjoy the learning experience. Then gradually, as your experience and knowledge increases you buy more.
What to look for in a Powerbox
Budget
We need to have a reasonable an understanding that we all have a budget to work with. If you are looking for E-Stim for sub £50 then I would suggest saving your money and purchasing E-Stim when you have saved a little more. Low cost TENS/EMS units are generally cheap mass produced 'made in China' devices with dubious safety details and unreadable translated manuals and is not something we would suggest you consider.
If you budget can stretch a little over £100 then things becomes interesting with packs for the ElectroHelix starting at £119, and then rising in stages with the ElectroPebble starting at £169 and then rising through the ABox Mk2 (Uses sound to generate sensations) and E-Stim Remote until you get to the highly specified 2B at £325.
Before you say that is too expensive remember that all of our power boxes come with a number of useful accessories as well as a lifetime guarantee.
Small Size
Some power boxes are built like a brick and weigh several pounds. They might look good in Frankenstein's lab, but are hardly practical for play in the bedroom, All of our units are built to be hand held, some even offer one handed operation and all will happily live in the bottom of a play bag.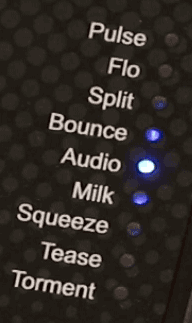 Clear displays
We love bright clear displays. Why should you need to consult a manual in order to work out what 'mode' your power box is in? Play in a dark environment and you will see the need for bright clear displays and easy to find controls.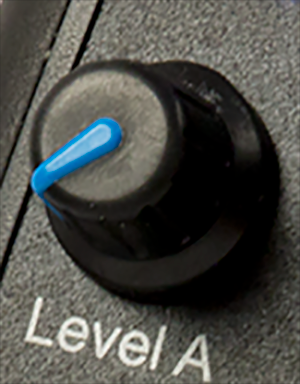 Easy to use controls
We use large knobs for controls where we can with stepless adjustments where possible. First this means they are easier to use in a play environment, where lube and sweat can make everything slippery, and with stepless levels you don't find that level 34 is perfect and level 35 is too much. In addition, none of our power units have numbers on the knobs - just because you might be able to reach 3 1/2 now does not mean you will be able tomorrow, and it certainly does not mean that your partner can, so they are meaningless. turn it up enough and then possibly got a little further depending on your tastes.
Knobs also allow you to drop levels down quickly when you need then. Having to press a switch 20 times to go from full power to OFF is always going to be interesting when your subject is screaming because things are too high for them.
Simple design
We always aim to create power boxes that can be used without the manual. This should be simple enough to work without needing a PhD to get the best. Obviously we do offer an manual, but everything is designed to be simple as
Batteries
We don't currently offer any rechargeable units, as in our experience they don't have the power unless the battery is the size needed to start a vehicle, and they always go flat when things start to get interesting, and waiting for them to recharge is a pain. So we use a standard PP3 battery which takes seconds to replace and continue playing, or as in the 2B we offer a mains powered option.
Our technology also allows you to continue playing when the battery starts to get low, you just need to turn the levels up a little more. If you only use a power box at low levels anyway this means you can extract the maximum amount of juice from the battery, and if you want more power, then the 2B does have a mains adapter. All of our power boxes have a low battery indicator so if the battery gets really low, the outputs will drop and the unit will wait for you to replace the battery.
Channels
Dual Channel units allow you to run more than one electrode on at a time. Isolated channels are necessary with any box that is designed to operate from the Mains, and the 2B has isolated channels. The ElectroPebble does not, but that because the ElectroPebble is designed to operate in a TriPhase mode, giving you sensations that are are almost 3D!!.
Number of Modes
All E-Stim units have a number of modes, giving you different programs to play with. In additional all the modes we offer have a number of adjustments so a single mode can have 100s of variations depending on what the adjustments are. Some power boxes (the 2B, ABox, New Remote and the ElectroPebble) also have audio modes which use sound to generate sensations, giving you even more ideas to play with.
Accessories
E-Stim is not just a Powerbox, it's also cables, electrodes, batteries carry case etc. All of our power units come in a sturdy carry case, with all the accessories you need to get started, and some even come with more toys to play.
Guarantee
All of our power units comes with a lifetime guarantee. That means if the power unit fails in normal use, then we will repair or replace it free of charge - you just need to pay for the shipping.
Our Power Boxes
We currently produce 5 units, all designed to complement each other. As we have said above, if you are on a budget and looking for a starter unit, then think about the ElectroHelix, or one of it's 3 Intro2Electro starter packs, the Helix Blue, the Helix Red and the standard Helix Pack.
If you want something that is going to offer you a little bit more of everything, then our ElectroPebble & the XPE and XPF Packs are the one to consider, however if you want the best E-Stim power box in the world with all the 'bells and whistles' then our 2B should be you only consideration.
ElectroPebble®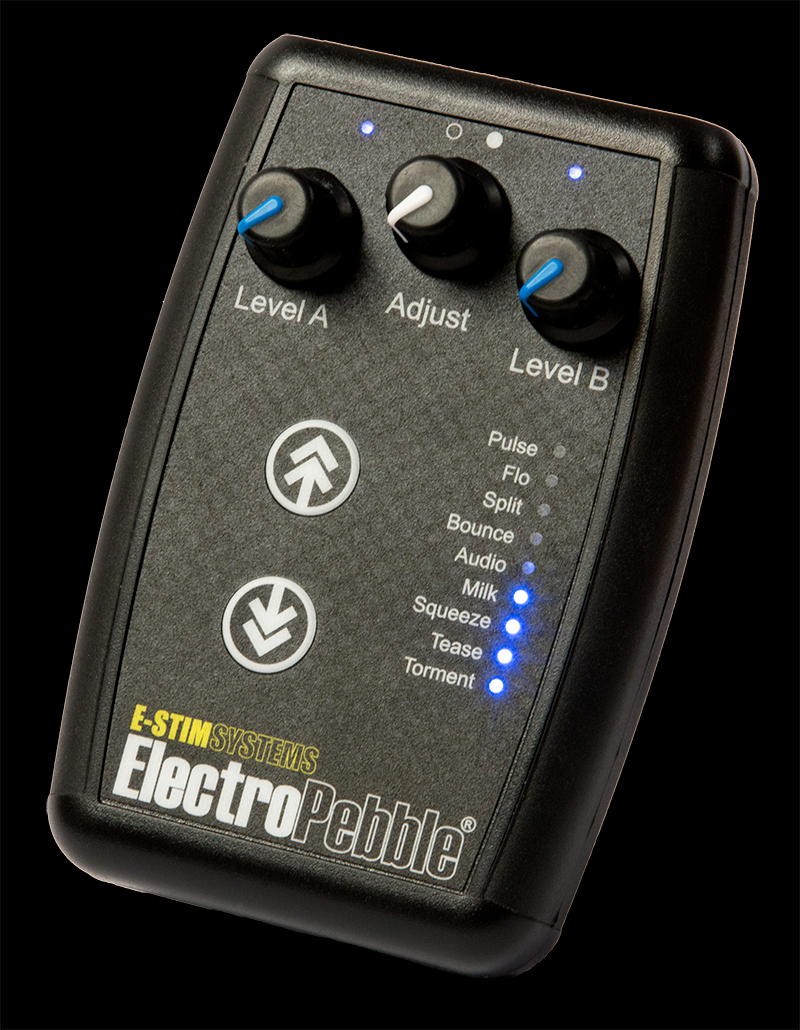 The ElectroPebble® is one of our most popular E-Stim creations, and has been created to be a true players box. With two channels allowing multiple electrodes to be used, 9 program modes including audio and adjustments everywhere, the ElectroPebble® is a pleasure box. It also comes in two additional packs, the XPE with Conductive Rubber Loops and a Medium Electro Egg, and the XPF, again with Conductive Rubber Loops, but with the addition of a Flange electrode. As well as being battery powered it is covered by our lifetime guarantee,
2B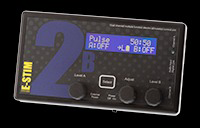 The 2B is the ultimate when it comes to E-Stim equipment. With more power, more control and more programs than every before the 2B is a serious piece of kit. The 2B has dual isolated channels (you can use two electrodes independently and they are isolated for safety), built in audio control with both an internal microphone and stereo input, but it has 17 program modes, a mains power option (110-220V) and considerable more power than ever before. Its covered by a lifetime guarantee, and is upgradeable. So - if you want the best then the 2B is the answer. Combine the 2B with our Digital Link interface and Commander 3 you now have e-stim control through your PC or Mac, and the ability to playback and record Sessions, while with the E-Stim Connect System you can play securely across the Internet from any mobile device with access to a modern web browser.
ElectroHelix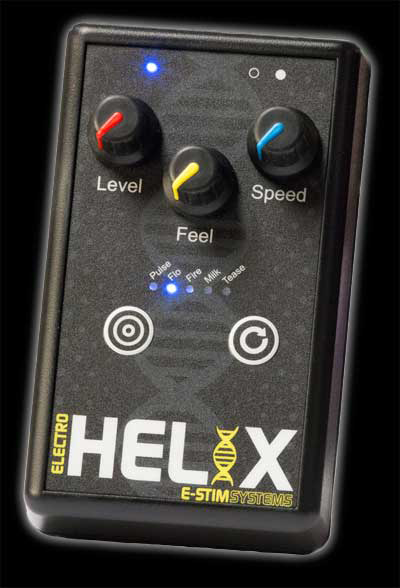 The ElectroHelix was created from the 'DNA' of our original Series 1. It is a single channel multi mode output model designed to be simple but effective. This is NOT a re-badged TENS unit, but a durable made for play unit. It offers power and flexibility at a very reasonable price. It has a wider range than similar units on the market, both in terms of control and power. With built in current limiting and step less level controls, It's also the only E-Stim unit currently on the market with a 'Fire Button' offering precise manual control, as well as 4 other adjustable modes. The ElectroHelix is also offered in 3 Intro2Electro starter packs, the Helix Blue, the Helix Red and the standard Helix Pack. to give you even more value.
If you are looking for a starter unit then the ElectroHelix is the one I would suggest. It's flexible and versatile and not too complex. But it has the power and controllability levels that even a professional will find a space in their play box.
E-Stim Remote
Next in the line-up is the newly improved E-Stim Remote. The E-Stim Remote is one of the smallest E-Stim power boxes on the market, and its predecessor, the Classic Remote was the first E-Stim unit in the world to offer a built in motion sensor. So loved by TV companies for zapping their contestants, the E-Stim Remote has a radio controlled digitally encoded key fob (no more interference from other units) and a range of up to 50M. The Remote offers similar levels of functionality to the ElectroHelix, with motion and audio drive, all controlled from a small discreet key fob controller. It also has the ability to link up with other transmitters allowing more than one transmitter to control more than one receiver (or one receiver responding to more than one transmitter), assuming of course you want it to.
If you are seeking the remote control aspect then obviously the Remote fits the bill. Ideal for controlling the wayward maid, or the errant 'pony', it is small and discreet ideal for play in the 'vanilla' world.
The ABox™Mk2
Lastly we come to our newly improved ABox™ Mk2. The ABox is the only dedicated sound driven E-Stim unit on the market, offering audio driven E-Stim. A single channel dual output unit, that uses sound to generate the output. With a built in adjustable sensitivity microphone and the ability to use external sources (MP3 players etc), as well as a bright level control and step less output adjustment, the ABox puts voice or music controlled E-Stim into the playroom. Not just using the amplitude (loudness) of the sound, but also the frequency (tonal nature) the ABox is flexible, versatile and unique.
The ABox is unique. We wouldn't recommend it as a starter unit, but if you already have our equipment and are looking for something more, or if you have experience with audio or 'stereo' stimming then the ABox is certainly a good choice.
More specifications
That's it for Power boxes, but if you are interested in a comparison of specifications have a look at our specification list.