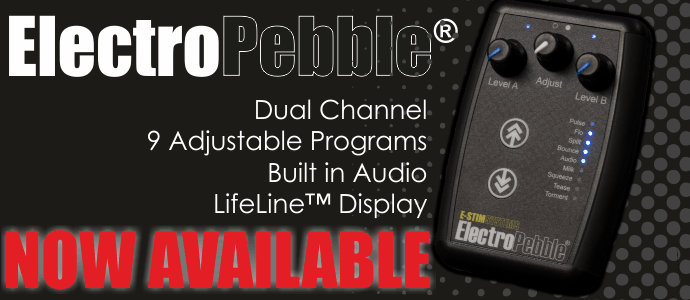 Introducing the ElectroPebble®. We have taken all of our knowledge in electroplay, we listened to what our customers have been telling us, put it all in a big melting pot, stirred it for a bit, distilled it and so the ElectroPebble® was born.
The result is a powerful, Dual Channel Unit, with 9 Adjustable Program Modes, Built in Microphone, Soft Touch Stepless Controls and featuring our brand new LifeLine™ display.
Available as just the ElectroPebble® which is ideal for those who perhaps already have our Series 1 and fancies something new, or we have put together a couple of great value packs the ElectroPebble® XPE and the ElectroPebble® XPF for those who are looking for a little extra.
The ElectroPebble® is fully compatible with our range of Insertables, Surface and Cock Play products and like the rest of our Power Boxes it is covered by our unique Lifetime Guarantee.