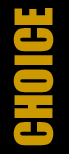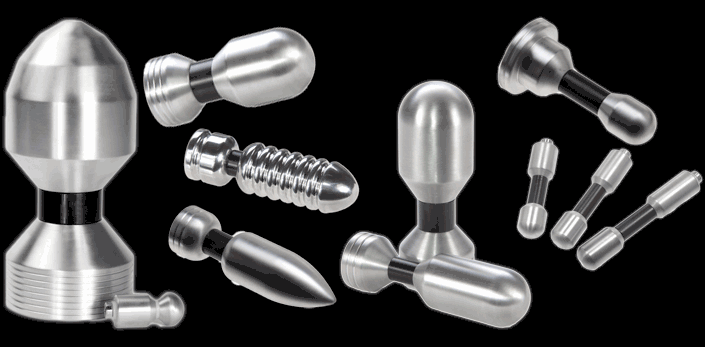 ITS ALL ABOUT CHOICE
With a number of insertable electrodes in our Premium Range it can be a bit of a nightmare when deciding what to purchase, especially if you are just starting out. We have tried to develop a range of quality electrodes that offers something for everyone both from the unsure beginner right up to the hard-core extreme player. Our electrodes come in different sizes and shapes, and are available in various styles and finishes. Each electrode has been designed to give you the optimum contact and sensation when used with our equipment, So some of the larger electrodes might not work with other e-stim or TENS/EMS equipment. so if you are buying an electrode to work with something you already own then try our Cable Selector, or give us a call or send us an email and we will see if we can help.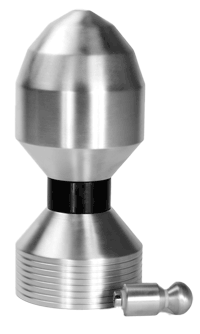 Bigger is not always better!!
The first thing to remember when choosing an E-Stim electrode - size is NOT everything. Because you are going to plug an E-Stim unit into the electrode the sensations are mainly created by the electrical signals from the control unit - the electrode is the conduct between the power box and the subject, and the location and shape give more to the final result than the exact size... but this does not mean you can't have fun with the electrodes without the box... you can!!!.
---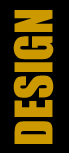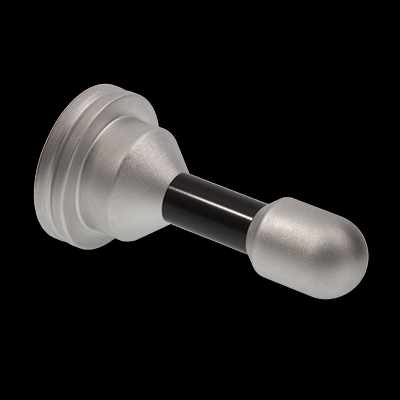 Designed for pleasure
You might notice that the basic design of all of our premium electrodes is similar, namely a head, an insulated neck (the black or red bit in the middle), and some form of base. the majority of our premium electrodes are bipolar, meaning they have two contacts. If you can remember your school physics lessons electricity needs two contacts (+ and '-') to flow, with e-stim you need two points of contact on the body. A bipolar electrode has both these contacts in one electrode.
Our premium insertables have the two contacts are top and bottom. This means the region of sensation is a '3D' 'donut' shape around the neck of the electrode.... and in humans this corresponds to the regions where all the interesting nerve endings are, both vaginally and anally. TENS and medical based electrodes, tend to have side to side contacts, giving a U shaped contact area - we can never understand why so many other manufacturers use the side to side electrode design... It does work but for us it does not seem to be as effective as our top-bottom design.
---

Specifications
Looking at our electrodes, apart from the nice pretty picture of the electrode, there are a number of technical specifications listed that many help you to make an informed choice. There is no need to buy one of everything...a few more selective choices will cover virtually all eventualities... and for the rest there is the Decimator™ (but more about that later!!).
We mention all the specifications and what to look for but for some people cost is always the issue and we can understand why. For many 'adult' goods seem to have higher prices just because they are 'adult'. We have always believed that this shouldn't be the case which is why you will find our prices to be general the lower than our competitors. This is not because we offer an inferior product - it is because we care about what we do and try to create 'toys' that truly work and offer great value for money. Buying a premium electrode might be expensive to start with, but think of it as an investment, you are buying something with a lifetime guarantee, which should give you a lifetime of pleasure.
---
Use
Firstly who are you going to use the electrode on? Yourself? Your partner? Your partners Partner? Think about where you are planning to insert the electrode - as depending on where you are planning to use the electrode, may determine your choice, but remember it is a personal choice as all of our premium electrodes are designed for and use by both men and women, with great results.
Because of the nature of e-stim it is not possible to use a condom with any E-Stim electrode. So if you're planning to use an electrode in a professional environment please bear this in mind, and unlike any other manufacturer, all of our premium insertables apart from our ElectroEggs can be taken apart for cleaning.
---

Diameter
The diameter is the thickness of the electrode. Electrode diameters range from 1" (25mm) - about the diameter of a adult males thumb, to a massive 4" (100mm) consider what sort of sizes of toys you already play with ... a plain vibrator is normally around an inch (25mm) in diameter. We always advise starting small and building up.
Length
Length is quoted as overall length and penetrative or insertable length. Because of the design of our electrodes a proportion of the electrode base is designed to be outside the body, so the amount the electrode will penetrate will be less than the overall length of the electrode. The penetrative length is measured from the middle of the insulator - that's the red or black insulating collar on the electrode. Some electrodes like the Black Collection can be inserted to two depths, as they have two 'necks', in this case the maximum depth of insertion will be given.
---

Base style
A number of our electrodes feature a flared or flanged base and a narrowed neck. This is designed to ensure that the electrode cannot penetrate too far and improves retention. In addition the flanged base gives a much larger external contact area...especially effective for the female user.
All of our Bipolar Insertables allow the use of our low profile cables, meaning that you can comfortable sit down when the electrode is plugged in... adding another dimension to your play.
| | | | |
| --- | --- | --- | --- |
| | | | |
| Classic | Ballistic Curve | Ripplehead™ | Faceted |
Weight
All of our premium electrodes are made of aircraft grade aluminum, food grade plastics and stainless steel fittings. They have weight, and the larger electrodes (The Stuffer™ and above) can be quite forbidding. This may be something you are looking for, but you might have trouble retaining the Stuffer or OMG while walking around unless you have something to help keep it in.
---

Finish
Most of our electrodes are available in a luxurious satin finish as standard, or a polished finish if you are looking for something extra special (but it does cost a little more, and is made to order, so a polished finish might take a little longer to make). Both finishes are durable and do last for years, provided you look after them. Some electrodes such as the Deviant Family and the Red Collection are only available in the polished finish, whilst others such as the Decimator™ (due to its sheer size) are only available in satin finish.
---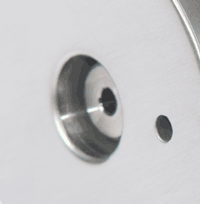 Connections
All of our premium electrodes have socketed 4mm connections in the base, and we use the industry standard (for E-Stim), heavy duty 'banana plug' style connections. We try to avoid the 2mm/TENS pin design on electrodes as they are designed for medical devices and are not durable enough for play.
We don't supply cables as standard with electrodes, because for most people they only need one cable which will work with many electrodes, and there are several different types of cable that can be used with our electrodes. If you're not sure what cables you need then have a look at the cable key box on each electrode's web page.
A 2mm/TENS
cable is needed.
A 4mm cable
is needed.
A 4mm/Low profile
cable is available.
A BiCable is needed.
---

Built to last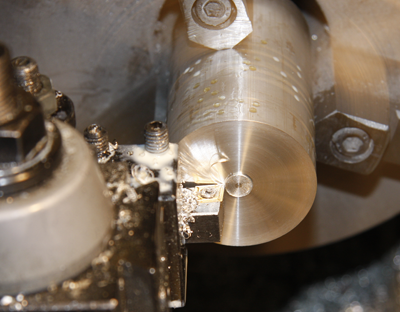 All of our premium electrodes are machined in our own workshops from aircraft grade materials, with food grade plastics and stainless steel fittings. We don't believe in using cheap laminated plastics (they delaminate when the glue fails), or foil conductors ( they get scratched to easily and create sharp edges) . In addition we don't offer rubber or silicon based electrodes as they are easy to contaminate, difficult to sterilise and degrade quickly in the presence of other silicons. Some many also contain chemicals such Phthalates, added to some rubbers to make it flexible.
We design our electrodes with sockets drilled directly into the conductors, and use heavy duty stainless steel fittings to hold everything together. We even design our electrodes so they can be taken apart for efficient cleaning.
Because of this all of our premium electrodes are covered by a Lifetime Guarantee. Put simply if you manage to break or damage one of our premium electrodes in normal use we will repair or replace it - and if you lose a bit when cleaning we can help you there as well. Peace of mind for as long as you own the electrode. Incidentally we offer the same guarantee on all of our power boxes - No other E-Stim manufacturer seems to be able to offer you the same level of commitment on their products.
---

So what do we recommend?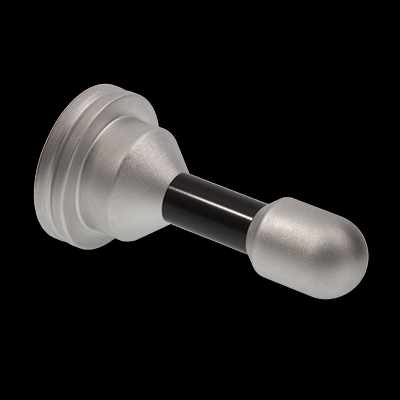 The Flange Electrode
The Flange electrode is a fantastic all-rounder and has been one of our top sellers ever since we launched it back in 2005. It has a small 1 inch diameter head so it's not too intimidating and our exclusive flanged base which gives an excellent contact area, gives you something to hold onto, and ensures the electrode does not enter more than you would wish. The Flange is also the electrode of choice in our Intro2Electro XPF Pack.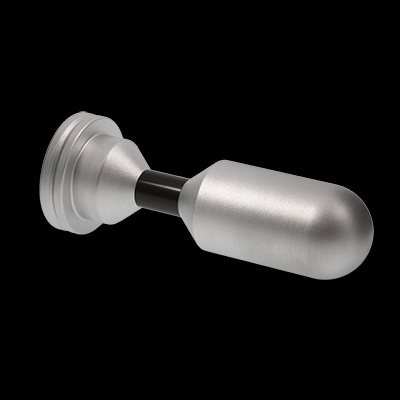 The MJ
Next comes the MJ. The MJ gives a fantastic fullness feeling when inserted, without being too extreme. The MJ was created by 2 members of our test team, hence the name and it has the same 1 1/2" (38mm) diameter head as the Small Torpedo but with the addition of the flanged base, So you get the fullness sensation together with the additional contact area of the flange base. Both the MJ and the flange electrode mentioned above are suitable for use with our low profile connectors.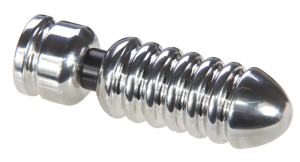 The Deviant™
Lastly The Deviant™ Family is a complete departure from our normal designs and was brought about because we had the CNC machinery to create things that were virtually impossible to create by hand. The result has been a family of electrodes created by our imagination, and from the responses of our test team and customers we certainly got it right!
---

What now?
Hopefully we have helped in some way to unravel the complexities of E-Stim electrodes however if you are still not sure or are confused about anything at all then please, all you need to do is send us an email or give us a call. We would love to hear from you and we will always try to help.
Wayne
E-Stim Systems Ltd