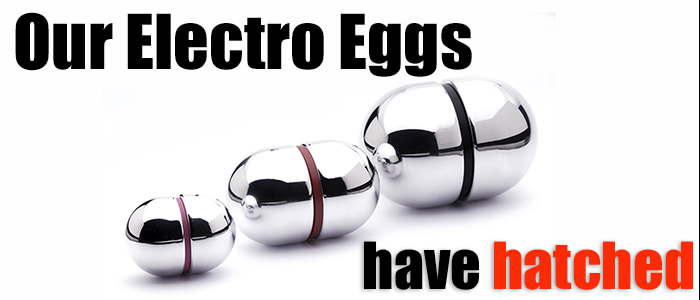 The Electro Eggs have hatched.
The first range of fully insertable Premium Bi-Polar electrodes from E-Stim Systems - The Electro Egg, a collection of 3 mirror polished and beautifully rounded Bi-Polar insertable electrodes.
These gorgeously rounded electrodes are made of aircraft grade aluminium and then polished to a mirror finish giving a beautifully smooth and shiny surface making them great to look at and ideal to slip inside.
To make things even easier these electrodes are also fitted with a durable captive cable so they are quick and easy to attach to any of our power units.
The Electro Eggs are designed to look great and feel even better and are designed for both vaginal and anal use. With 3 sizes each with their own distinctive coloured insulator there will be one just right for you and all covered by our Lifetime guarantee.