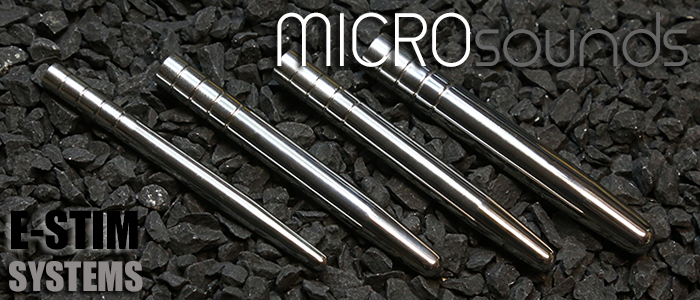 Manufactured from solid stainless steel and then mirror polished these ultra smooth, ultra shiny MicroSounds™ are just perfect for those who want to play just around the head of the cock, as at only 75mm long it just hits that spot. They are also ideal for females who are looking for a sound for play that is not too long for them.
The Microsound™ range mirrors that of our longer UltraSound™selection with diameters of 6, 8, 10 and a hefty 12mm, and they still have the trademark tapered tip like the rest of our UltraSounds™, making them ideal for gently stretching and taking that step to the next level. The sleek rounded tip and 2mm differential between tip and shaft help to gently stretch the urethra ensuring you can go on to take the full diameter of the shaft.
All of our UltraSounds™ are designed with a stylish and practical grooved base area to help with gripping them with lube covered fingers and are fitted with an industry standard 4mm socket. TENS users many need an adaptor.
The UltraSounds™ are all covered by our Lifetime Guarantee.